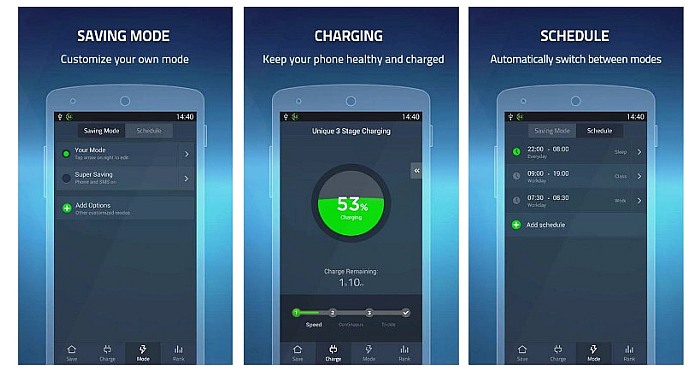 The Battery Doctor App is offered by Cheetah Mobile Inc. and will provide you with very amazing features. This app is compatible with most of the devices that are currently offered in the market. The Battery Doctor application of offered for free and will help you in saving your battery power, that ensuring that you not only have a lengthy time of use after charging but also a longer battery life.
How Does Battery Doctor Work?
With this app, you will be able to save up to 50% of your battery power, meaning that you can use your battery for up to two times the period that you would have otherwise used when you had not installed the app. It works by finding and setting all the apps that highly drain your battery power. Currently, over three hundred million people are using this application in both iOS and Android operating systems.
What Are its Main Features?
This app is easy to use and very professional. It supports 27 languages implying that it can be used anywhere worldwide. It will give you a detailed information about your android phone by providing you with helpful information about the apps that highly drain your phone. With Battery Doctor, you will also have a phone that charges healthily. This is because it has got a three stage charging system. Consider enjoying an awesome power saving experience that can be rated the same as Project Volta.
Defend Your Battery Power!
As mentioned before, this app gives you a detailed information of the apps that are draining your battery power. You will then be able to adjust your settings like brightness and also disable all the apps that you are not using.  The app has got also the ability to accurately estimate the battery time that is remaining. It will tell you how long your battery charge can last under various situations like Wi-Fi on, browsing, playing games, and so on.
Professional Charging!
What of charging your phone's battery professionally? This app assist in regulating the manner in which the device is being charged. This is through its unique 3-stage charging system. It also reminds you not to overcharge your battery. With its additional features it will regulate and monitor power consumption.
Widget Included!
The developer has also included the "Task Killer" widget that conveniently optimizes your battery power consumption. With this widget, you will find it easy when managing brightness, Wi-Fi and even set a power saving mode.
Recent Updates:
Lately, the developer has fixed some of the known bugs and as well added a new notification bar in the app that provide you with an avenue that you can use to easily see your power problems.
Download Battery Doctor App for Android
The app was last updated in 21st, August 2015. It has got over three hundred million installations. You will need an Android version 2.3 and above in order to use this app.